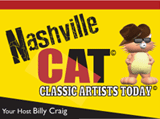 Welcome to Nashville CAT© - "The Best Songs Today...From Country's Legacy Artists," syndicated radio program.
Nashville CAT© features "new" music from "classic" country bands and performers! Nashville - Classic Artists Today© or Nashville CAT©, takes you on a journey from the past - right up until today. The artists that were there for your first date, your first kiss and even a good ole fashion hoe-down. They're still there with you in the fast-paced life you live...today! Sub-genres of country music will be sprinkled throughout the program, too. Interviews and special programs are also in store!
Nashville CAT© is produced and hosted by nationally recognized music artist, Billy Craig. He has released multiple albums of modern country music and is also the lead guitarist/vocalist in Brownsville Station, the legendary rock band known for their Top 10 hit, "Smokin' In The Boys Room." Classic Artists Today's founder, Ray White, is executive producer of this fast-paced, weekly one-hour show.
You'll hear the latest songs by bands and performers including: Vince Gill, Alabama, Carlene Carter, Faith Hill, Garth Brooks, Diamond Rio, Alan Jackson, Kix Brooks, The Outlaws, Allison Krauss, Willie Nelson, Sawyer Brown, Ronnie Dunn, Patty Loveless, Randy Travis, Toby Keith, Charlie Daniels and dozens more!
Nashville CAT© returns to the airwaves in 2016!! Check back for the latest update.
Be sure to "Like" us on Facebook at www.facebook.com/nashvillecatradio